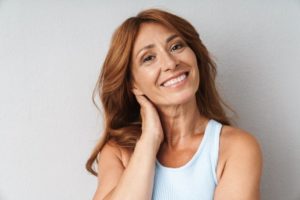 If you're missing teeth, then you're probably researching the best replacement for your smile. It's hard to get through your search without learning about dental implants because they are one of the most popular options available. However, this solution does require surgery, so you may be wondering about the safety of this procedure. Read on to learn why you can feel confident in this predictable and comfortable treatment option.
But First, How Do Dental Implants Work?
In order to understand their predictability, it's important to know how dental implants work. These small titanium posts are surgically placed in the jawbone to act as artificial tooth roots. Once placed, you will begin a process called osseointegration, allowing the implants to fuse to your bone, becoming a permanent part of your body. After your implants have fully healed, you will receive a permanent restoration to complete your smile.
How Safe Are Dental Implants?
Patients can feel confident in this treatment option because dental implants have a success rate of 98%. With millions of implants placed over the last 50 years, your odds of a healthy and successful implant treatment are incredibly good. While implants do require surgery, patients who have undergone treatment relate it to a simple tooth extraction—the procedure is much more comfortable than you may think. Plus, your dentist in Midlothian utilizes sedation dentistry to provide patients with a deeper sense of relaxation.
How Can You Ensure the Success of Your Implants?
While dental implants are safe and predictable, there are some steps you can take to minimize your already small risk of failure, including:
Daily Dental Hygiene
Brush your teeth twice a day for two minutes each and floss once to remove plaque and bacteria that build up. You can also add a nonalcoholic mouthwash to your routine to clean areas of your mouth that your brush or floss couldn't reach.
Avoid Bad Habits
Poor lifestyle choices like tobacco use, smoking, and heavy consumption of alcohol can put your dental implants at risk of failure. Tobacco can be especially detrimental to your oral health because it makes it more difficult for your gums to heal after surgery. You should also avoid using your teeth for anything other than eating and speaking to minimize your risk of dental emergencies.
Routine Visits
Dental checkups and cleanings were already important, but it's more vital than ever for you to visit your dentist for regular appointments. They will examine your dental implants and ensure that they're healthy and thriving. This is also an opportunity for your hygienist to clean away plaque and tartar that couldn't be reached at home.
Now that you know how safe dental implants are, what are you waiting for? Contact your dentist to get started on this amazing replacement. Just remember these easy maintenance tips for a healthy smile!
Meet the Dentist
Dr. Phillip Johnson wants his Midlothian patients to have access to the best treatments available, which is why he offers dental implants as an amazing solution. If you have any questions, don't hesitate to contact Dr. Johnson through his website or by phone at (972) 723-3567.