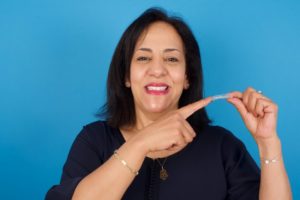 You're only as old as you feel, and you're never too old to have straight teeth you're proud of. So, if you've wondered, "Am I too old for Invisalign?" – you're not!
Invisalign aligners can deliver your dream smile whether you're 14 or 74. Read on to find out why it's never too late to straighten your smile with your dentist in Midlothian!
Invisalign for Adults Can Improve Your Quality of Life
Some adults are incorrectly told that their teeth are fully set in their jaws and can no longer move. The truth is that, with the right pressure, you can straighten your teeth at any age. Invisalign for adults can be very beneficial, whether they are starting with relatively straight teeth or have teeth that are very crooked and need extensive treatment.
Straightening your teeth isn't just about aesthetics, you'll also find your teeth are easier to clean, which reduces the risk of periodontal disease. You will chew more efficiently and that will aid digestion to improve gut health.
Also, crooked teeth can cause jaw alignment issues, which can foster bite problems and teeth grinding. Each one of those problems can spur chronic headaches, as well as face or neck pain. Finally, you can speak more clearly with properly aligned teeth.
Why Is Invisalign a Treatment Well-Suited for Adults?
A common reason that Invisalign treatment takes longer than anticipated is that patients are not compliant with the instructions of their dentist. If you do not wear your aligners for at least 22 hours per day, your treatment is going to take much longer than it would otherwise.
Fortunately, adults often make better patients than teenagers because:
They maintain the motivation to improve
Don't take their health for granted
Listen to their dentists
Practice better oral hygiene
How Do I Know If I'm an Invisalign Candidate?
It is important to schedule a consultation with your dentist. You will provide information about your dental history, and the dentist will take an impression of your mouth so they can better understand the issues that need to be addressed. It is helpful if you think of questions you want to ask in advance of the appointment and write them down, plus you can consider what your smile goals are.
The main qualifications for getting clear aligners are:
Your teeth and gums should be healthy
You should have great oral hygiene
You should be able to follow instructions for wearing and cleaning your aligners
You shouldn't have any complex bite issues or jaw problems
Your age really is irrelevant when it comes to getting results, so Invisalign for seniors is a viable option. If you wish to discreetly straighten your teeth, it's definitely the way to go!
About the Author
Dr. Phillip Johnson earned his dental doctorate from Texas A&M Baylor College of Dentistry. He's a dedicated student at the world-renowned Dawson Academy and has attended advanced training in oral sedation and dental implants. A member of the American Dental Association, Dr. Johnson is an Invisalign provider. If you are interested in this teeth-straightening option, Invisalign in Midlothian promises discretion, comfort, removable convenience, and easy follow-up visits. The first step is a consultation with Dr. Johnson, which you can schedule on his website or by calling (972) 723-3567.